Selection: Small Chain Saw The Husqvarna chain saw, 142 is a saw you can Use Safely and Easily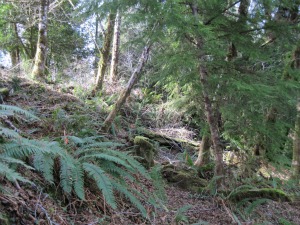 This small chain saw the husqvarna chain saw, 142 , an 18inch chain saw with an Oregon chain , makes for an ideal saw for your use on your forestry garden.
When you start shopping for chain saws that you can operate safely and easily on your forestry garden you can become confused.
There are small ones, medium sized ones and the larger ones like the loggers use.
These come in many different brands and colors.
Over the years I have used different brands and sizes while working on my forestry garden.
I have came to the conclusion that it is difficult to find one chain saw that safely and easily fits all jobs.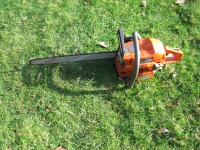 A small chain saw, model 142 can cut the bigger material but not as safe or easy as a larger chain saw.
Same holds true for a medium size chain saw.
A large saw can cut everything.
It can not cut the small material as safe and easy as a husqvarna model 142.
I recommend as your first chain saw that you get a husqvarna, model 142 with a 18 inch bar and an Oregon chain.
This is a proven very reliable chain saw.
It just keeps on cutting and if it ever does need repair or parts this is readily available.
It is safer to use this smaller chain saw to cut down the small trees and the small brush on your forestry garden.
Wait until you get comfortable handling this small chain saw before tackling the larger trees with a larger chain saw.
Small chain saw, model 142, 18 inch chain saw
The following are some of the specifications of the Husqvarna chain saw, model 142.
The husqvarna 142 is an older chain saw and has been replaced with newer improved models. The 240E is the replacement saw.

The newer ones are basically the same chain saw but with improvements.
Husqvarna is always making improvements, thus the newer models.
This doesn't mean that if you buy the latest model today and it's replaced that your model isn't any good.
It is still the fine chain saw you bought.
Weight: 8.5 lb w/o bar & chain
Chain catcher: Keeps chain from striking operator, if broken or comes loose
Anti Vibration: Operate without numbness in limbs
Chain brake: Stops chain when operated
The Husqvarna weighs around 12 pounds with bar, chain and fuel.
After using this for a while it does get heavy.
When you first start using a chain saw this is something to be aware of. When you feel yourself getting tired, take a break. If you keep on going you will not be safe.
I use the husqvarna , the small chain saw, model 142 chain saw for the cutting of brush and small material on my forestry garden.
After many hours of use I have not experienced any major problems with this chain saw.
This is a safe and easy way for me to do the needed tasks.
This saw has the power to cut off the larger limbs and trees that are present in the area that I am clearing for reforestation, or just general cutting tasks.
The husqvarna uses a smaller chain that has an anti-kickback feature.
This prevents the chain saw from coming back at you when it strikes an object.
This Oregon chain can cut the small material without grabbing.
Grabbing is when the chain digs into the material but doesn't cut it.
This can and does happen with a more aggressive chain, as is used on the larger chain saws.
When the 16 inch chain was worn out I elected to increase the bar length to 18 inches.
This is the maximum length for this model of chain saw, the 142.
The small chain saw, model 142 has plenty of power to pull this longer Oregon chain.
This added length allows me to easily and safely reach under the brush while cutting it.
Now that you have decided that this is the saw you want you can go to this site to learn more about the newer model 240E and where to purchase it:
---
---
If you decide that you want or need to increase the bar length to 18inch then you can go to this site to get more information:

---
When you use your husqvarna chain saw, model 142 to cut trees the chain is going to get dull.
The way to know this is happening is, the material isn't removed from the cut as fast as before.
It is now time for you to sharpen your chain.
You can go to the following page to get the needed information that will help you accomplish this task.
---
After you have mastered the operation of the husqvarna chain saw, model 142 it is time to tackle those larger trees on your forestry garden.
Go to this page and get some needed information on this chain saw.
---
Return from small chain saw to chain saw selection
---
Click here to read our privacy policy:  Privacy Policy