Medium chain saw the Husqvarna Rancher will Fit the Bill for most of your Cutting
A medium chain saw known as the 455 rancher is a good all around chain saw.
The Husky rancher 455 is what I call a medium sized chain saw.
This is the one that when it comes time to cut my firewood I normally use the most of.
The trees on my forestry garden tend to be of the smaller size, one foot or less in diameter.
The husqvarna rancher is suited for cutting trees of this diameter with ease and safety.
When you are faced with the task of having to cut up larger trees it works well to have a chain saw with more power and a longer bar.
This is when you need the husky chain saw.
It is difficult as well as dangerous to cut larger trees with a saw that is too small for the job.
The further you can get away from the tree being cut the safer it is.
The way for you to do this is with a longer bar.
In order to get one of these you have to have a chainsaw that has more power and this is where the husqvarna rancher comes into the picture.
This chain saw does have the power to use a longer bar efficiently.
The medium chain saw as the husky chain saw has a chain with larger teeth that are designed to remove more material.
This chain saw will be heavier and larger in size so it will take some time for you to condition your body.
It is wise to start out on a small tree and get comfortable operating the saw, before you tackle a larger tree.
I have operated a number of different brands of chain saws while turning my country acreage into a forestry garden and have came to the conclusion that the husqvarna rancher is the one that suits all of the tasks that I need to do.
The 455 rancher chain saw is a proven reliable saw used commercially and by numerous ranchers.
With the bar length and Oregon chain I am able to cut most of the trees on my forestry garden.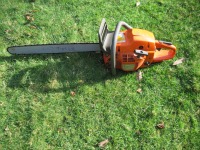 Husqvarna rancher chain saw
The following are some of the specifications on this medium chain saw that you may find informative:
Weight: 12.8 lb w/o bar & chain
Chain brake: Stops chain when operated
Chain catcher: Catch chain if it breaks or comes loose from sprocket
Anti-vibration: Less fatigue for operator
The husky rancher has proven to be a reliable chain saw.
I have used this for many hours for the cutting around my forestry garden and it has performed the tasks that I needed to get done.
The husqvarna rancher has a real handy feature that I have came to appreciate.
It has the primer bulb for starting and on a cold start this is a great help.
The medium chain saw does weigh more than the smaller husqvarna 142 that I was accustomed to using.
This added weight did take some time to get my body in shape.
I do like the longer 24-inch bar.
This allows me to get further away from what I am cutting and makes for a safer operation.
I did have occasion to try the chain brake on the husky chain saw, out one time.
It worked just like it was designed to work. It prevented me from getting injured, a good thing.
I spent a lot of time operating the old chain saws that didn't have the anti-vibration feature that the husqvarna rancher does have.
After using one of the old saws my arms felt the wear and tear. I can run the husky chain saw for a number of hours and not have any numbness in my arms. This is a huge improvement and one I appreciate.
One time I got the chance to see how well the chain catcher worked on the husqvarna rancher.
The chain came off the Oregon bar while I was cutting a log. The chain catcher contained the chain without any danger to me.
When you purchase this medium chain saw spend some time studying the operator manual and especially the safety section.
This chain saw is designed to cut larger trees so it has a more aggressive chain.
This chain is more prone to kickback.

Now that you have deceided that this is the saw that you need you can go to this site to learn more about it and where to purchase:

---
---
---
Now that you are cutting the larger trees and logs it would be a good thing for you to get some more added information on the safe proper method of doing this.
If you haven't done so already I think it would be to your advantage to get some safety tips on the operation of a chain saw.
I invite you to go to this page to get this information.
---
When you operate a chain saw the chain is going to get dull.
Go to this page to get some information on what is needed so you can keep your saw cutting as new.
---
On your country acreage that you are turning into a forestry garden you have some large trees.

If this is the case you will be safer and more efficient to use a larger chain saw.

If you go to the page on large chain saws you can get some information
---
Return from medium chain saw to chain saws selection
---
Return from medium chain saw to forestry gardening tips
---
Click here to read our privacy policy:  Privacy Policy