Sawmill Sawdust Blower Why you need this and How to Install on your Sawmill

Sawmill sawdust blower why you need this and how to install on your sawmill.
A sawmill creates a lot of sawdust while making lumber from logs. The blower will keep sawdust off the log and also keeps the flying dust down. Some species of logs have a lot of dust present when you saw them.
If you can remove the dust it will improve the working conditions for you the operator and also keep the dust from settling on the machinery. This will make the mill run better and decrease the fire hazard.
Cut down on the constant chore of cleanup with a blower that can and will help.
Sawmill Sawdust Blower

I have included another view of this blower to give you a better idea as to how it is to constructed.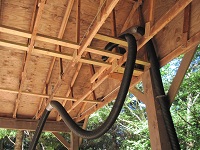 After doing some calculating, by the use of this book:
Dust Collection Basics
Woodstock International
Stock #: W1050
I came up with the need for 4inch flex hose and a 1hp blower 450cfm. I installed this on my circular sawmill. This saw does make a lot of sawdust and normally the blower handles the removal of the sawdust.
I installed the dust collector flex hose on a 3ft riser on the mill, attaching the hose to the sawdust outlet on the blade guard.
My mill has a cover built over it so I mounted the blower up in the rafters. I elected to use a hardwired on and off switch with overload protection. Normally once you start the blower you let it run until you have completed cutting the log.
You need the hose to travel with the saw, so I stretched aircraft cable parallel to the mill, securing on each end. Install a large clothes line pulley on the cable. Secure the hose to this pulley and then to the blower.
You must make sure that there is enough slack in the hose during the travel back and forth.
The outlet of the blower is flex hose and the end lays on the ground. I move it around to deposit the sawdust where I want it to end up.
It is important to obtain the flex hose designed for dust collection. It is smoother on the inside than the plumbing hose. This makes for less resistance on the material moving thru. An important factor.
Try to eliminate as many turns with fittings as you can. Any turn adds up to the resistance. You want a system with the least amount of resistance as possible. This seems to be especially true in the inlet side. The outlet side is more forgiving.
If the blower is sized correctly it will save you lots of shoveling. I do not enjoy the clean up chore. I would rather be making boards.
---
You can go to this site and get the needed information on the equipment that you will need to install one of these labor saving methods:

dust collector
---
Perhaps from the above site you didn't find what you were looking for.  I invite you to go to the following site and check out what is offered:

---
After you have obtained the dust blower you will need the hose to connect it up.  Go to this site for needed information:

---
You can obtain this much needed book Dust Collection Basics at this site:

---
From sawmill sawdust blower to lumber production
---
From sawmill sawdust blower to forestry gardening tips
---
Click here to read our privacy policy:  Privacy Policy