Roof Top Utility Vehicle will Offer protection from the elements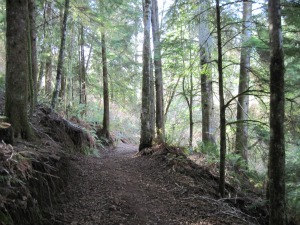 A roof top utility vehicle will give you protection from the elements.
This atv accessories will also offer you some protection from debris that can and will fall down upon you.
One of the first things I acquired after getting my kawasaki mule was a roof top.
I just didn't like the idea of having the rain
pouring down upon me while I was driving the mule.
I did use it for a short period of time without one and after getting wet a couple of times I felt it was time to start searching out what was offered in roof tops.
I contacted the local kawasaki dealer and looked at what they had to offer in the atv accessories line as far as a top was concerned.
I felt that the vinyl one was the way for me to go.
I have had the same one for a number of years and it still sheds water.
I am careful to keep away from flying hot embers and try to stay out of the way of falling debris.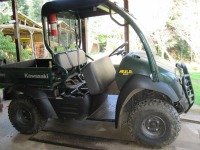 There is a wide range of offerings for this sort of roof top utility vehcile.
You are offered a selection from the cheaper to the more expensive.
What you settle on will depend on what your budget is and just what you hope to accomplish.
The bottom end cover will offer you protection from the rain and some of the smaller falling objects.
It is made out of vinyl so a larger object could and will do damage to this type of material.
It is not fire resistant so if a hot ember comes in contact with it you will loose the ability to shed all of the water.
If you are in a position to spend more money you can obtain a cover that is made out of a rigid plastic and will withstand a harder blow from a falling object.
This cover will also resist a hot ember somewhat better, but it does have its limitations.
When and if it does get damaged it can be repaired.
The installation of the roof top utility vehicle is quite straight forward and with the enclosed instructions it is a task that can be accomplished in a short period of time.
It is something that is better done with two people but can be done with one.
I like the looks of the vinyl one that I have and when it rains or hails I do not have the noise that a more solid roof would give you.
But that is my own preference. It is an individual thing so you will have to make up your own mind as to what it is that you feel will suit you.
If you do decide to get one of the cheaper ones and then later on perhaps feel you would like to upgrade you can do so without having invested a lot of money or effort.
The top is secured by a method that doesn't leave much of an impression when removed.
So no matter which top you settle on I hope you will agree with me that it is one of the better investments that you have made.
After all the utility vehicle is supposed to make work more fun.
If we can keep covered and protected from the elements while driving the utility vehicle then it will be more fun.
So stay dry and enjoy the operation with a roof top utility vehicle that will keep you this way.
If you have decided that you need one of these to protect you then you can go to this site to shop for the one that will work for you:

mule 610
---
From roof top utility vehicle to utility vehicle
---
From roof top utility vehicle to forestry gardening tips
---
Click here to read our privacy policy:  Privacy Policy